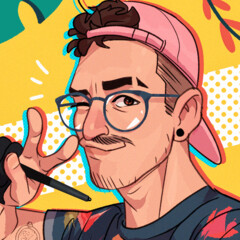 Vic Regis
Freelance Illustrator and Comic Artist
Curitiba, Brazil
Summary
Hi! My name is Victor Regis and I'm a 25-year old freelance illustrator based in Brazil! I graduated in 2016 as a Digital Design Major on PUCPR, but immediately turned into freelance comics and illustration as my main source of income.
On top of commissions and freelance work, I also self-publish a web comic called Hexile - one of Tapas' and Webtoon's Staff Picks in 2016 and 2019, respectively. The first printed issue was released on spring 2019, with more to come very soon.
In 2021, I was featured in the Flash Facts anthology published by DC Comics, in the story "If You Can't Take the Heat" written by Varian and Darian Johnson.
Skills
Illustration
Character Design
Visual Development
Comic Art
Software proficiency